Curate Your Collection
Finding art for large walls doesn't have to be difficult or terribly expensive. The key to a composed gallery wall is finding a balance between the subject, the actual art, the framing, and the space. Curate your collection to make the biggest impact. The subject or the art itself can be anything from children's artwork to art in a particular color theme, maps, botanicals, black and white photos or family photos. I even love the idea of using musical instruments, hats or plates. Have fun with it and make your gallery wall meaningful.
Scale
While there are no real rules, be mindful of scale. This is such an important element in any design project and something that folks often get wrong. Art that all has a similar tone can have added interest by mixing up the size and finish of the frames or how they are hung. You can change the scale of the composition by using larger frames with wider matting. Matching frames and matting and hanging in a grid can quickly cover an entire wall. If grouping items in a grid, try to display an odd number of pieces, like a uniform stack of three frames or a square grouping of nine pieces.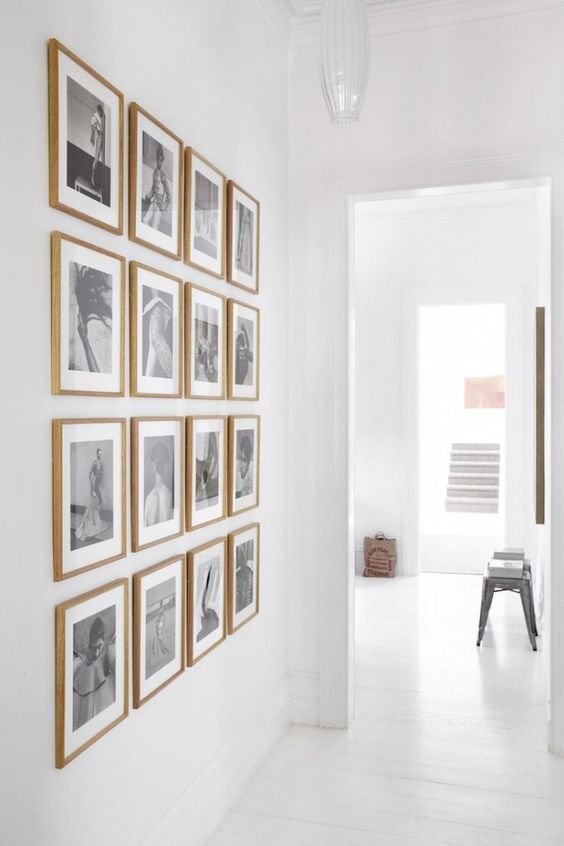 ​
Best Practice for Creating a Gallery Wall
A quick tip on how to keep nail holes for a gallery wall to a minimum is to start by measuring and taping off the wall space with painters tape and then duplicating that area on the floor. Layout the frames that you are using on the floor with brown paper, cut out the size and shape of each frame. Move the paper to wall and tape in place. Measure the back of the frame for the location of the hole and mark on the paper layout on the wall.

For more inspiration, click here.
​Looking for other interior design ideas, check out or GOOD DESIGN series!
​